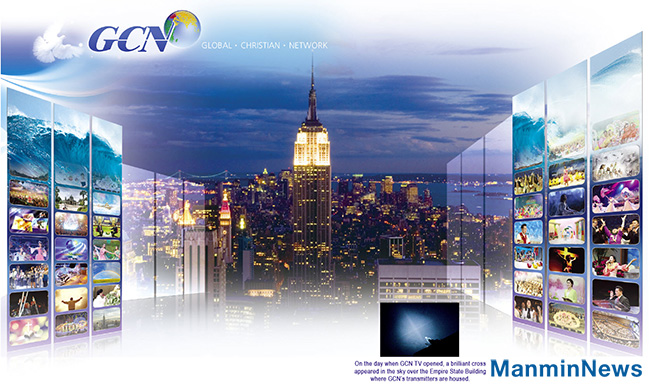 On the day when GCN TV opened, a brilliant cross appeared in the sky over the Empire State Building where GCN's transmitters are housed.


At present, people live in the ultra high-speed multimedia age with satellites, cable broadcasters, public networks, IP TV, and mobile broadcasting via smart phones. The media is so varied and the number of programs is constantly increasing, so it's not easy for viewers to find and choose a program that is high-quality and instructive.

A producer brings to people salvation, divine healing, transformation, and works of blessing in the allotted broadcast time period. As a Christian channel it is GCN TV that spreads God's love and power. GCN TV (Board Chairman: Dr. Jaerock Lee, Website: www.gcntv.org) is the Christian broadcasting network that was established only for the glory of God the Trinity and to spread the gospel to all people of all nations.

GCN TV sheds the light of the truth on those in the world who are suffering from diseases and many other kinds of problems. Also, it proclaims countless powerful works that confirm the living God and Jesus Christ our Savior.

GCN provides viewing audiences with a wide variety of diverse programs: Dr. Jaerock Lee's 'Word of Life' and the documentaries that attest to the authenticity of the Bible through vivid testimonies of viewers such as 'The Secret of Power' and 'Original Voice'. There is also Pastor Soojin Lee's GCN TV Sermon Series 'I Will Do It', and 'Praise & Worship' that show heavenly beauty through high-quality cultural arts performances.

Moreover, GCN TV is equipped with a multi-lingual translation system that broadcasts in Korean, English, Spanish, Russian, French, and Urdu languages. Multiple language live-broadcasting enables viewers in other countries to watch the programs without any problem in understanding.

The best of its best programs is Dr. Jaerock Lee's 'Word of Life'. His main sermons such as 'The Message of the Cross', 'The Measure of Faith', 'Heaven', 'Hell', 'Nine Fruits of the Spirit', and 'The Love Chapter' have been produced and aired world-wide.

In preparation for digital television transition that was implemented on January 1, 2013, GCN TV had started to produce sermon programs with HD (high-definition) technology. Its HD programs have been well-reviewed by viewers, and through Dr. Lee's sermons, in particular, and the 'Prayer for the Sick' that is broadcast three times a day, many people have accepted Jesus Christ, converted to Christianity, and experienced God's power transcending space and time.

Furthermore, viewers can join all kinds of Manmin Central Church's services and Daniel Prayer Meeting in real time, and its various programs are accessible via mobile web service. It is available 24 hours daily for smart phone users at m.gcntv.org.

GCN TV has also built the cooperative ties with the world distinguished broadcasters such as NRB Network, Enlace, Rodnoy TBN, and CNL. Additionally, through public TV stations, satellites, and cable TVs, its programming has been aired in approximately 170 countries. So, people can watch it anytime anywhere. We hope that many people will watch it with longing for God's answers and blessing in the New Year, 2013.